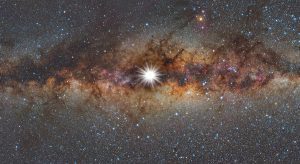 Solstice sun, as a brilliant star, superimposed over a photo of the Milky Way
(what it might look like, if we could see beyond the light of the sun on this day).
NASA Image of the Day, December 21, 2017
Season's Greetings to all, as the solstice is upon us (at 22:23 UTC, December 21) and those of us in the north look forward to longer days, and those in the south enjoy the peak of daylight.
A new member mentioned that part of the path that led her to RNA was a YouTube video with a presentation by Ursula. A fresh look at this prompted thoughts about other videos and other resources, and I did an overdue review of some of what's been created and made available by RNA members.
There's quite a collection – including articles, books, videos, and materials at websites, blogs and other venues. Some of this has been mentioned already – at the Member's Projects page at the RNA website, and in the RNAnet and RNAfacebook online forums. But, since a number of pieces haven't yet been mentioned, I wanted to list a few here – for holiday browsing by any who might like to explore. And, if anyone has other sites that we can point to, let us know.
The thought also occurred that drawing from these and other resources might serve as a rough start for something like a Religious Naturalist Journal, where – maybe 3 or 4 times a year – pieces of art, music, news, and ideas could be assembled.
Here's to a fine 2019 for all.
And here's a music link, focused on Winter, by pianist George Winston.
Todd Macalister
Some resources from RNA members
Video