One of the things we do at RNA is share information and ideas.
One theme is interest or amazement at the wonders of our lives and our world. Another is sharing views on ways that RN-related perspectives can contribute to our lives.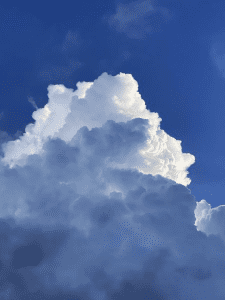 Part of this occurs via RNA Facebook where, among many recent postings, several that caught my attention were posted by Steve Jones; where beautiful photos, accompanied by brief descriptions and links to postings at his Great Blue Heron blog, contribute to his stated goal of helping people to "pay greater attention to and engage more regularly with Nature" and "see their relationship to our natural world with new eyes". The photo to the right is from one of Steve's postings: "Cumulus Conspiring to Create a Downpour!". Links to this and blogs by a number of other RNA members can be seen at the RNA Member Blogs page at the RNA website.
RNAnet has also been active, and recent conversations have considered such topics as:
Positive emotions, spirituality, and psychiatry (with thoughts about RN and RNA)
Community
British Columbia hippies
RN monastic options
A fundamental question for RN
Responses to the naturalistic fallacy (which argues that if something is 'natural' it must be good) to consider ways that behaviors observed in nature may, or mostly should not, shape views on human morality or related questions
Economics (individual and societal)

The limits of growth

Economics, potential collapse, and consideration of RN priorities/values

Fantasy moves in light of economic collapse

Survivability is not a negative, it's an opportunity
RN ordination
Thiomargarita magnifica
RN in the art museum

 
An archive of postings on these and other topics are stored in Gmail, and, may also be found in your New, Old, or Deleted Mail folders. 
Along with sending thoughts and links, several postings have recommended books, articles, websites, or other resources. Some recent recommendations include:
"What Makes Us Happy?" by Joshua Wolf Shenk, The Atlantic, 2009
"The Bonobo and the Atheist: In Search of Humanism Among the Primates", by Franz de Waal
"The End of Ice: Bearing Witness and Finding Meaning in the Path of Climate Disruption" by Dahr Jamail 
"Against Nature: Untimely Meditations", by Lorraine Daston
"Green Sisters: A Spiritual Ecology" by Sarah McFarland Taylor
To add one more resource, I'll mention something a friend showed me and, in being both informative and fun, has become a new favorite tool and toy – the Merlin Bird ID app, developed by the Cornell Lab of Ornithology, which, when active, processes sound from outdoor locations and identifies birds that are calling – at a particular place and time, with photos and information. For those interested, the app is available for free at https://merlin.allaboutbirds.org/.
To end with a piece of music, this month's selection is "Let it Be a Dance", and you can click this link and have a listen. 
Todd Macalister