We've had what I believe to be our first official RNA meet-up! On April 21, the evening before the Washington DC March for Science (of which RNA was an official Partner), this hardy crew assembled at the Bier Baron Tavern in Dupont Circle for pub food and beer and a wonderful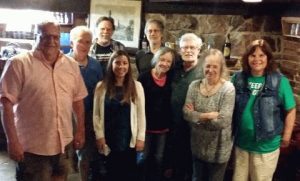 evening of conversation. It poured rain the whole time during the march, but it was a thrilling experience nonetheless, one I hope many of you shared in other cities.
Several years ago, Sam Guarnaccia wrote a beautiful Emergent Universe Oratorio that has been performed by amateur groups while he continued to revise and perfect it. His goal, a professional performance, has now been realized: on June 30 the world premiere will be performed in Cleveland by 35 musicians and 45 singers; details are here
http://samguarnaccia.com/2016/12/the-world-premiere-june-30th-2017-maltz-center-for-the-performing-arts-cleveland/
. I've listened to the amateur version many times on CD and it is really magnificent and totally RNA-centric. Hope some of you Ohioans are able to attend.
The other is a book by Jeremy Lent that will be published on May 23 by Prometheus Books. It's called The Patterning Instinct: A Cultural History of Humanity's Search for Meaning. Jeremy has sent us this blurb, and more information is here
http://www.jeremylent.com
The Patterning Instinct (Foreword by Fritjof Capra) investigates how different cultures have made sense of  the universe and how their underlying values have changed the course of history. From the first farmers to Chinese sages to the trailblazers of the Scientific Revolution, the book shows how humanity's unique instinct  to pattern meaning into the cosmos has constructed the world we live in today. The Patterning Instinct probes our current crisis of unsustainability and argues that it is not an inevitable result of human  nature, but is culturally driven: a product of particular mental patterns that could conceivably be reshaped.
I'm retiring and moving to the ocean on Martha's Vineyard in a few weeks. It is thrilling to anticipate total daily immersion in the natural world after an urban life-to-date!
President, Religious Naturalist Association