June 2022
RNA and the Deep Transformation Network
Hello Dear People –
RNA can be thought of as an umbrella, an on-line affiliation of religious naturalists who take nature to mind and heart, where most if not all of us consider social justice and environmental sustainability to be of deep importance.
A few months ago, Jeremy Lent, a long-time member of RNA, launched a high-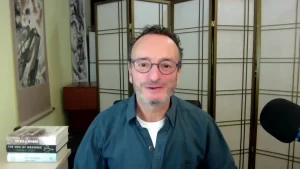 end site called Deep Transformation Network (DTN), which self-describes as "a global community to explore pathways to an ecological civilization." 1500 persons have already joined, and I've found the on-line and zoom discussion forums to be broad and deep – here's an example of an upcoming event. 
Soon after launch, Jeremy invited me to offer a "Group" on the site called the Religious Naturalist Orientation, the notion being that many DTN members drawn by its environmental message would also be drawn by the RN pathway were they given the opportunity to explore it. 
"Groups" have the option to offer specific "Topics", and thus far I've initiated two. One offers versions of Everybody's Story; the other, called Religious Naturalist Voices, offers quotes from past and present persons who convey RN-relevant insights, whether or not they self-identify as religious naturalists. 
If you go to the site and resonate with what you find (where this link on members and this link on member guidelines are also helpful), I encourage you to join the DTN (free) and, if you join, to then sign up for the RN Group. There you can either lurk or infuse us with your thoughts, feelings and conversation. The site's IT interface is excellent and includes such features an option to connect with others who live in your town/region and an interactive book link. 
I'm also taking the reciprocal tack, posting on the DNT page a call to check out and consider joining RNA.
I see this as an opportunity to conjoin religious sensibilities with environmental sensibilities, lifting up the concept that ecological engagement is religious engagement.
Thanks for considering this, and much love –
Ursula
President, RNA
Music 
Water Is Life – Mni Wičoni (by Sara Thomsen):
https://www.youtube.com/watch?v=fzPjkG3akrc