It being my month to write the RNA Newsletter, I had assumed I would endeavor to say something about the pandemic situation that hasn't already been said, but it wasn't clear that there is such a thing.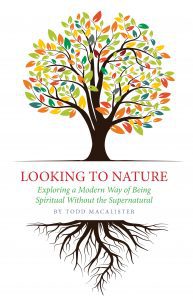 And then – deus ex machina! – Todd Macalister, our RNA Communications Officer and a dear friend, sent a final version of his long-incubating book: 
Looking to Nature: Exploring a Modern Way of Being Spiritual Without the Supernatural
. Yes! I could instead lift up Todd's thoughtful and lucid explorations of the RN trajectory, a book that will endure long after we extricate ourselves from the current clusterbleep, and hopefully serve to guide us during the extrication process.
Even better, his publisher (Apocryphile Press) has made a wonderful offer: RNA members can go to 
this site
 and, for a limited time, download a free version of the book – as a pdf or in various electronic formats (Kindle etc.).
There are, of course, many excellent RN-related books out there – we offer a long list of 
choices on our website
 – but Todd has taken a novel approach. His target readers are persons who have fallen away from their religions of origin and seek something different, and he presents a brief (100 pp), straightforward, and cogent case for an RN orientation, often (as in the title) substituting spiritual for religious for those with an R-word aversion. The genre could be called handbook or manual – and indeed, Todd's day job for decades has been producing informational manuals for various companies – but a manual embedded with grace, style and feeling throughout.
My sense that we all should have a copy on hand to offer to family and friends who express even a scintilla of interest in using the natural world as a point of reference in constructing their systems of meaning and value. Todd employs suggestion and not exhortation; RNA is noted but not lifted up. He covers the "science parts" with authority, takes the reader through all the thorny topics – what about death? what about God? – with empathy and skill, and offers many ideas about how such an orientation can be put into practice.
For those of you who have already adopted this path, the book is a must-read if only for the splendid collections of quotes Todd has assembled from numerous RN torchbearers – James, Berry, Einstein, Sagan, Rue, Capra, and on and on, quotes you might put on the door of your refrigerator to catalyze morning reflections. Like this one from Jack Haught: "Religion means much more than a state of mind or an ecstatic or mystical mood. It's a commitment over a lifetime to what a person considers to be good."
Earth Day is around the corner. We can only hug one another virtually, but trees await our embrace.
President, Religious Naturalist Association